<![CDATA[ <![CDATA[
Planning an upcoming event is overwhelming and exhausting. There are so many moving parts to keep track of and the worst thing that could happen is that the entire event flops and no one comes and your entire career as you know it collapses in on itself like a black hole.
[caption id="" align="aligncenter" width="500"]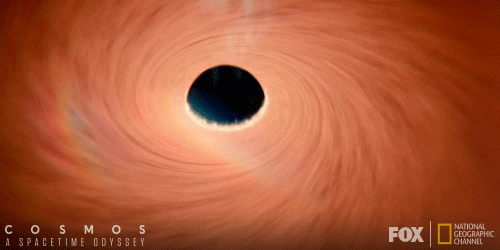 That center section? Yeah that would be your career as you know it. (credit: Fox)[/caption]
So.
There is that. 
We don't know astrophysics and we can't do anything about being crumpled into oblivion by a black hole, but we do know events. So in a way, we're almost defenders of the galaxy. A galaxy of events. You're welcome.
As a ticketing company, we also know how the event 
budget
can get overwhelming.
No wait, come back! Don't leave yet!
I know the B-word is scary, it is to me too, but let's be honest, we all know we have to deal with budgeting when getting an event off the ground. If we didn't we'd all probably have $2,000 Swedish floral centerpieces on each table and gold dipped silverware. At least I would. And then we're back at careers crumbling in on themselves.
So to stop an intergalactic incident, we consulted event planners, event textbooks and some event infographics to put together this handy post to make figuring out your next event budget easier and to keep you from losing your mind and our galaxy not spiralled into a black hole.
First things first
. Need a place to be.
[caption id="" align="aligncenter" width="436"]
Pro tip: Don't have your event on Jakku. (Credit: Disney)[/caption]
You probably already know what the most important thing for your event is as you've been agonizing over it for some time now. If you don't know what the key part for your event, you've got some catching up to do. We'll give you a moment to think about it.
Good? Okay. For most people, the main part to the event is the where;
where
is the event going to take place? And the answer will be [insert name of venue location here]. So naturally, the first thing you should have on your budget and the thing you should make sure your money goes towards is
venue.
It should be noted that just because something is
first
or
most important
doesn't mean it is the most expensive. To have an event you need a location and venue, but this is does not mean it will be the largest expense on your budget sheet. Event planners suggest that a venue rental should account for 15% of your budget.
Your venue could be a reception hall, a hotel ballroom, a backroom in a hipster bar or outside on some winery's gorgeous rolling hills. No matter where it is, you're
probably
going to have to pay something to be able to use it.
If you already know exactly where you're going to hold your event, great, skip on down, otherwise we have some more thinking to do. There are three main things you need to think about before you go looking for a place:
How many people does it need to hold?
Does it need high tech hook ups?
Do you need/want liquor sales?
Once you know the answers to those we can move on to the really
important
part here:
how much money do you have to spend on an event space?
You can look up different venues and call for quotes and make a spreadsheet and go from there or you can use an awesome platform like EventUp which lists venues by city and need. Putting in Austin, TX pulls up a variety of different places and price points, but on average, most venues ran around $1,500 for Monday through Thursday with a premium being spent on Friday and Saturday nights where you could spend closer to $5,000.
Clearly, it is much better for your budget if you decide to go with an event in the middle of the week during the day.
Some venue rentals come with amenities included like:
Parking
Valet staff
Wi-fi
A/V Equipment
Tables/Seating
Catering
Full Bar
Which is
awesome
. If you can get a venue with many of these added in then that cuts down on your expenses elsewhere. It also makes it much easier on you and not having to figure out how you're going to take care of everything. But we like to live dangerously, so let's pretend that the venue you're using doesn't really have these set aside for your use, then you'll need to make room for them in the budget elsewhere. But we'll get to that in a minute.
Next part of the budget. Food.
[caption id="" align="aligncenter" width="434"]
How most of us feel regarding food, lets be honest. (Credit: Buzzfeed)[/caption]
What is an event without a food? Not an event I'm at. I know I'm not the only one who feels this way (admit, you do too), so expect that catering and food should come to around 20% of your budget (though you should plan for more if you are looking to also have liquor sales).
Finding the right food type is its only difficulty, thankfully one we don't actually have here in Austin (Morning? Breakfast tacos. Any other time? BBQ. Done.) but finding the food and caterer is only part of the expense. Make sure that your budget also leaves room for:
Food
Drink
Warmers
Servers
Catering staff
Liquor license (if needed)
Bartender (if needed)
Now for the fun one. Entertainment!
[caption id="attachment_23546" align="aligncenter" width="400"]
Hit button, get party. (Credit: NBC)[/caption]
Entertainment is going to be a big part of your budget. You've got a place to put people and you've fed them and given them a nice libation, but you need a reason for them to be there, other than the free food.
For many corporate events this can be a no-brainer. If you're hosting a symposium on stopping event-related black holes, you'll likely have a rather knowledgeable speaker or two there to give a lecture (happy to talk, contact my people). Or maybe it is a bit more of relaxed and fun event, with music and a band. Either way the entertainment is going to cost and depending on how specialized you want it, it will end up costing more.
Band and/or DJ
Speakers
Travel cost for entertainment
Giveaways/favors/prizes
Trophy's
GIF booth
You may not have all of these items but you should keep them in mind. They all fall under your entertainment section. Because of the high price of some of these, expect your entertainment budget to run about 25% of your total budget.
Rentals, because buying all of that is unnecessary.
[caption id="" align="aligncenter" width="395"]
Rent all the swag you can! (Credit: NBC)[/caption]
Rentals are a necessity, especially if your chosen venue doesn't have a lot of them on hand already. Hopefully they will at least have a few of these on hand which will cut down on this expense but if they don't, your rentals can range from the high-tech:
A/V equipment
Microphones
Projectors
Screens
Lighting
To the low-tech:
Tables
Chairs
Plates
Glasses
Silverware
Linens
Hopefully your venue is helping out with silverware and tables and chairs. If not you may want to talk to them about how they're kind of a crappy venue. Depending on how and what you need to rent, your rental budget will probably run you 10-12% of your full budget with the higher end being necessary if you are renting everything.
It is possible to have a smaller rental budget if your venue has all inclusive packaging, so it may be more beneficial for you to have a smaller rental budget and a slighter higher venue budget, all depends on what works the best. 
Make sure to have everything look pretty!
[caption id="" align="aligncenter" width="381"]
Perhaps don't go with this theme. Maybe. (Credit: Disney)[/caption]
Don't forget, you want the place to look nice! You may have the best DJ and the tastiest catering but the event will look blah with normal house lights and the generic scuffed up tables and Boringly Beige walls. Make sure to add another 10% to decor to spiff the place up with: 
Banners/signs
Centerpieces
Flowers
Table decor
Room decor
Keep in mind that some of your decorations can go under your rental budget (lights, presentation screens, etc.). No one wants to have to 
buy
a crazy amount of theatre can lights when you can just rent them after all, so there is a bit of movement between these two sections as well.
Everything else and the kitchen sink. 
Then there are the expenses that don't fit in anywhere else but you still need to account for them. The random detritus that accumulates somewhere whenever you plan an event. It is the final 8-10% of your budget and will likely include any:
Fee's
Printing prices
Insurance
Event app
Promotional/Marketing materials
There could be any number of things that fall in under the misc tab. If it doesn't fit in anywhere else, it could go here. Be careful though, you don't want this to go higher than 10% of your budget! If this category starts to get out of hand, be sure to step back and look at what you have in here. Likely it could go somewhere else (or it may not be really necessary). 
The nice thing here, your tickets will totally be free because you're using Ticketbud and you won't need to pay for anything extra to scan tickets at the door. So, that's a relief.
Break it all down. 
[caption id="attachment_23543" align="alignright" width="379"]
Entertainment and food will take a good portion of the budget. Everyone loves good tunes and good food and they make or break your event.[/caption] This breakdown of your budget
is
a rough estimate. As mentioned previously, every event is going to be slightly different. Some events you may want to splash out more on rentals and electronics and in others you may need more for food or entertainment (or perhaps your venue has a lot of built ins and they save you a lot of money, who knows we can always dream). These are good parameters to start with when it otherwise feels overwhelming to start your budget. No matter how much money you are working with, your average percentages will be very close. Don't let your next event budget overwhelm you, keep to this breakdown and you'll keep everything from spiralling out of control. ]]]]><![CDATA[> ]]>